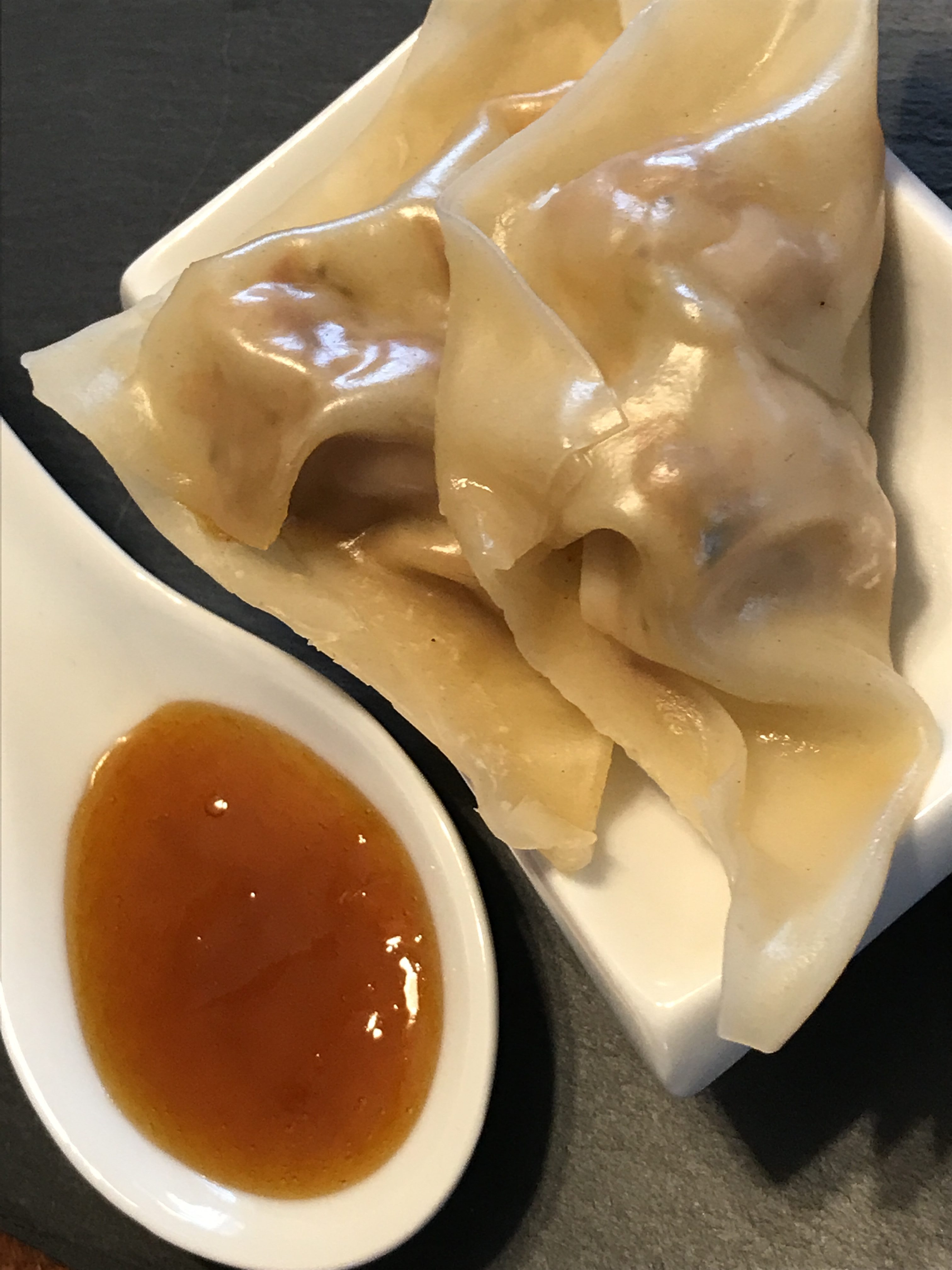 Moroccan Dumplings with Apricot Dipping Sauce & Sticky Coconut Lime Rice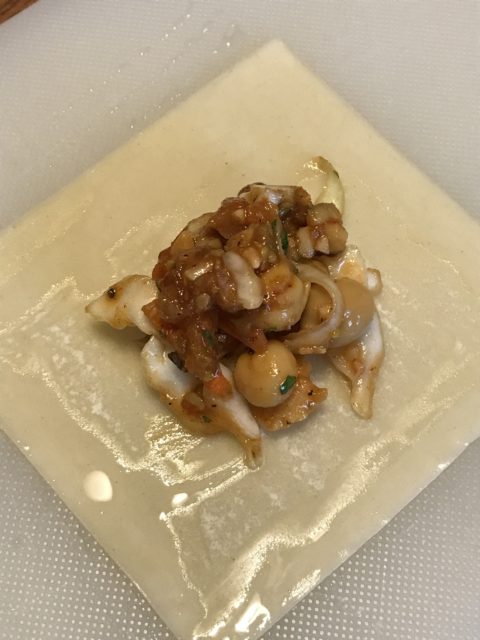 Chopped: ECA Edition, big fun!
The organization that I work for had a fun team building activity a couple of weeks ago that was right up my alley. Right up my alley, that made me snicker. Where did that phrase come from anyway? You know I am going to find out. And, apparently, the origin of the phrase goes back as early as the 1600's, with the word "alley" referring to something being part of one's province. The exact phrase is also documented in a 1931 court case. In the 1930's the slang term "up one's street" was commonly used in the same reference. Okay, I digress, but now we know.
Our team building committee came up with their own version of the popular Food Network show, Chopped. The rules were slightly different. Employees received an envelope of six unique "mystery ingredients." There were several different lists. The challenge was to come up with a dish using at least three of the ingredients for a staff carry-in. Dishes were judged and awarded very interesting prizes in four categories: Most Creative Use of the Ingredients, Presentation, Taste (featuring at least 3 ingredients), and Most Ingredients Used with Best Taste. We weren't timed and didn't have to cook onsite, thankfully. However, it was just a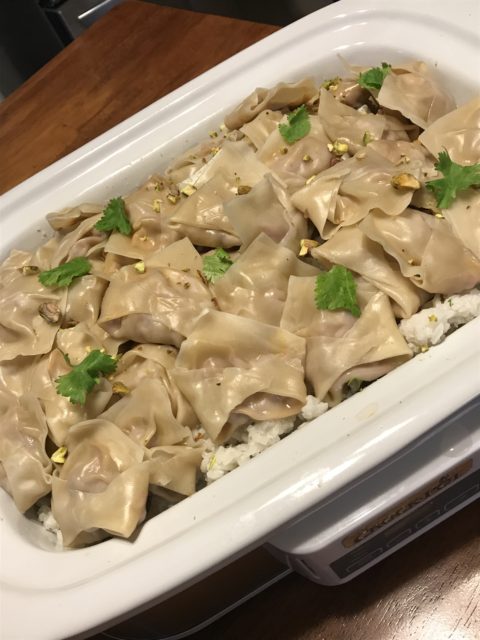 s challenging coming up with something that could be easily transported and re-heated. I am amazed we didn't blow a fuse with all of the crockpots that were plugged in at the office that day!
I was challenged to produce something fairly creative and tasty, first, because many of my co-workers know I own a food business so I figured they would have high expectations, and second, because I am just highly competitive. 🙂 I had a strategy. I did what I thought others would do, and searched the world wide web for recipes that used many of the ingredients on the list. The list I was given screamed "dessert" to me, and sure enough those were the type of recipes that popped up. My list included Apricot Preserves, Star Fruit, Coconut Milk, Wonton Wrappers, Pistachios, and Nutella. See, sounds like dessert.
So, I went another direction. Several of my ingredients are used in Moroccan cooking, which I love, and pair well with my Ras el Hanout blend. Ras el Hanout is a blend of "top shelf" spices including Coriander, Ginger, Cumin, Black Peppercorn, Turmeric, Cinnamon, Orris Root, Cardamom, Rose Petal, Fennel Seed, and Star Anise. The spices for this blend are first toasted to release the oils, then put through the grinder. They smell unique but amazing. I came up with the dumpling recipe by writing a variation of an Asian wonton or dumpling. Several of my co-workers are vegetarian so I decided to make the dumplings without meat. I could have used tofu, but I had chickpeas in the pantry, and use them in other Moroccan dishes, so chickpeas became the protein in the dumplings. Since Star Fruit isn't readily available in my rural grocery, I decided to use it similar to dried apricots, and ordered the dried version from Amazon.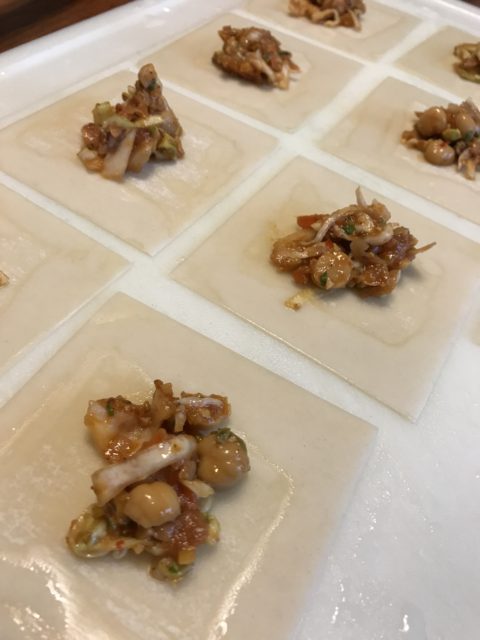 Now, let me just mention. Making dumplings takes skill. Skill that I apparently don't have. It takes practice, lots of it! Folding them is time consuming. After you get the hang of it, the process goes a bit faster. But, plan on throwing a couple in the trash, and being okay if they aren't even close to uniform. For the sake of space in the steamer and in the crockpot, I gave my dumplings an extra fold. I also folded and then steamed a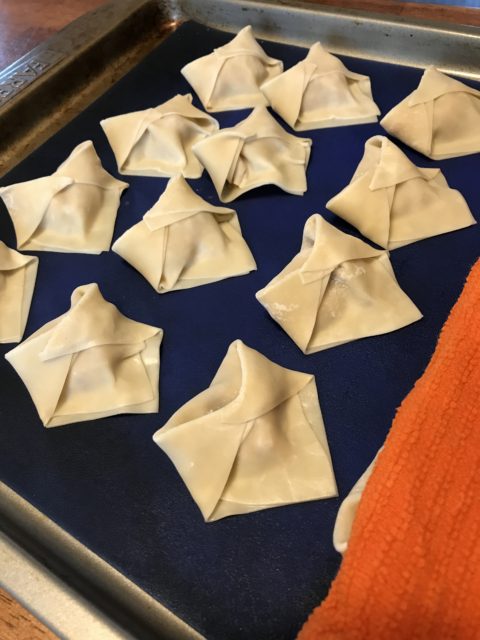 few dumplings to sample before attempting origami with the fragile little squares.
I know you all are w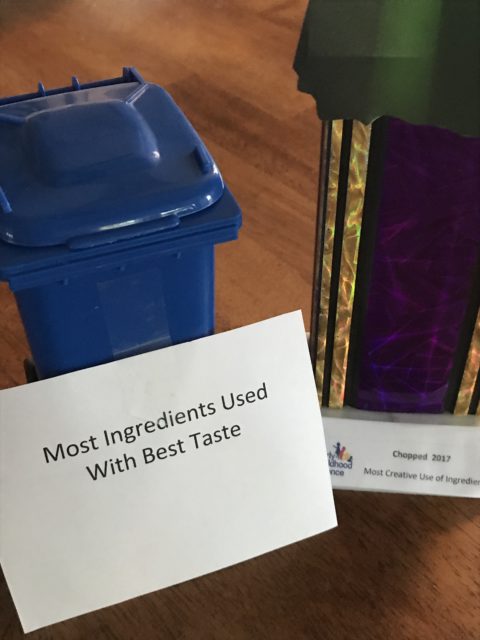 ondering. Yes, this tasty dish was the winner of not just one, but two of the categories. I was awarded a trophy for Most Creative Use of Ingredients, and a tiny garbage can full of candy for Most Ingredients with Best Taste. Kudos to the team building committee for their creative prizes! (Really guys, cash would have been just fine, haha!)
The dumplings would make a great appetizer. The rice can be served as a side dish to an entree such as Tangine Chicken Thighs. Or, you can serve the dumplings with the rice, as I did.
I would certainly suggest eating right away though both the rice and the dumplings did heat well in the crockpot. Another suggestion, prepare dumplings with children. Then you can put them to work on the tedious stuffing and folding. Win, win! They get a cooking lesson, and you don't have to fold. Enjoy!
Moroccan Dumplings with Apricot Dipping Sauce & Sticky Coconut Lime Rice
Author:
Changing Seasonings
Recipe type:
Appetizer, Dinner
Prep time:
Cook time:
Total time:
Ingredients
For Dumplings:
1 15oz can Chick Peas (can substitute ½lb firm Tofu or ground pork or turkey)
1 ½ C Slaw Mix (or chopped cabbage and carrots)
2T Scallions
2t grated fresh ginger
1T Harissa
2T chopped Pistachios
2T chopped dried Star Fruit
1T fresh Cilantro
1t (1clove) minced fresh Garlic
1T Soy Sauce
2t Sesame Oil
1 Egg
1t Kosher Salt
¼t ground Pepper
½t Ras el Hanout seasonings
35-40 Wonton Wrappers
For Dipping Sauce:
1 12oz jar Apricot Preserves
1T Soy Sauce
¼ C Rice Vinegar
For Rice:
1 C Jasmine Rice uncooked
2 ½ C Coconut Milk (can add water to make full amount)
½ t grated fresh Nutmeg
½ t grated fresh Ginger
1T chopped fresh Cilantro
Juice of ½ fresh Lime
Instructions
Mix dumpling ingredients except wrappers.
Use 1t filling for each wonton.
Wet and seal edges.
Steam for 10-12 minutes.
Whisk together the sauce ingredients. Reserve for dumpling dipping.
Cook rice to package instructions.
Add nutmeg and ginger while cooking.
Add lime juice and cilantro before serving.
Garnish with chopped pistachios.