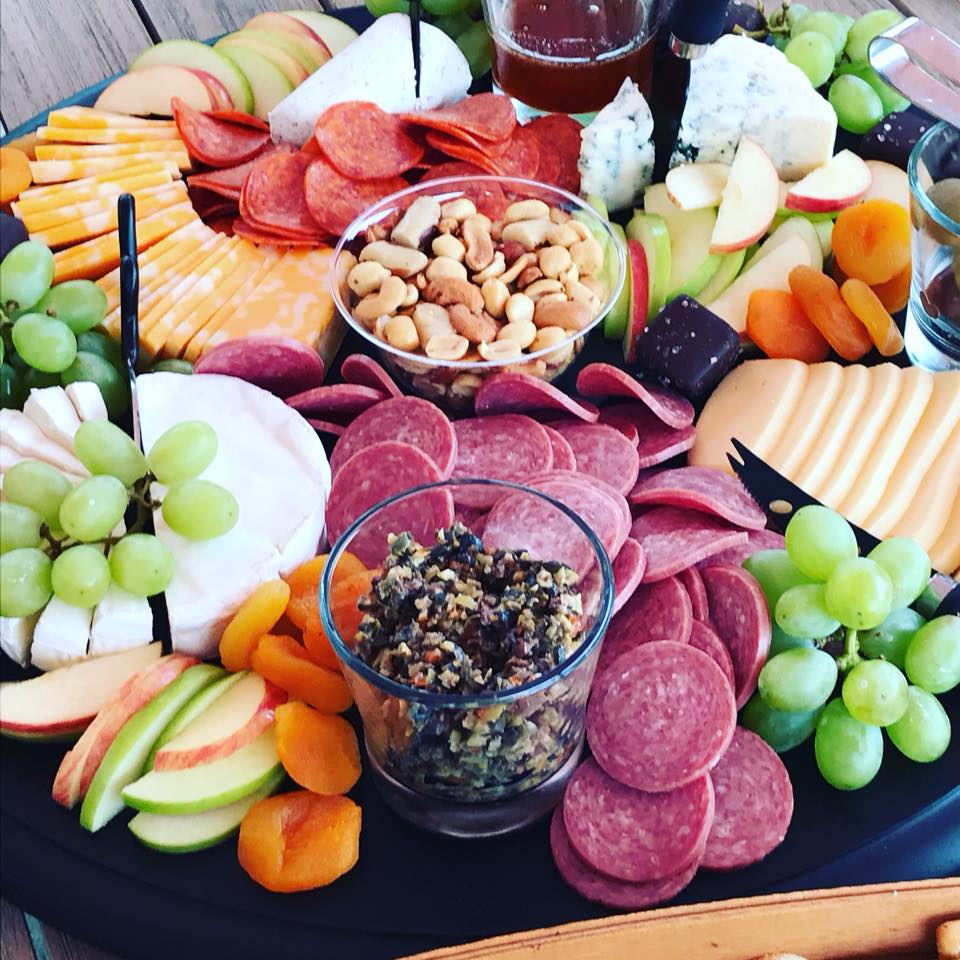 Cheese and Charcuterie Boards
To order a board and arrange for pick up, send an email to [email protected] or call 260.235.0896 at least two weeks prior to the date of the event.
Available within a 45 mile radius of Auburn, IN. for pick up only. Safe transport is the responsibility of the purchaser. Availability of some items are seasonal and prices vary. Specify price range and number of people to serve. Plan for 1 1/2 – 2 oz of cheese per person.
*For information about boards/trays, bowls and utensils, see bottom of page.
Cheeses:
(Choose 3-6)
Fresh –
Soft –
Semi Soft –
Jarlsburg
Camembert
Havarti
Monterey Jack
Colby
Bleu –
Semi Hard –
Smoked –
Hard –
Aged Cheddar
Parmesan
Gruyere
Parmesan
Meats:
(Choose 1-2)
Salami
Proscuitto
Smoked Salmon
Smoked Sausage
Ham
Turkey
Capicola
Chocolate Covered Bacon
Pepperoni
Fresh Fruits:
(Choose 1-2)
Strawberries
Raspberries
Blackberries
Grapes (green or red)
Apples (green or red)
Oranges
Melon
Pears
Cherries
Pomegranate Arils
Dried Fruits:
(Choose 1)
Apricots
Cranberries
Dates
Vegetables:
(Optional)
Nuts:
(Optional/Choose 1)
Mixed Nuts
Honey Roasted Peanuts
Cashews
Almonds
Pecans
Crackers:
(Choose 1-2)
Club
Butter (i.e. Ritz)
Multigrain/seed
Water Biscuit
Wheat
Breads:
(Choose 1-2)
Bagette
Bread sticks
Flat Bread
Fruited Bread
Rye Bread
Melba Toast
Spreads:
(Choose 1-3)
Pate
Tapenade
Jam/Preserves
Chutney
Honey
Pepper Jelly
Mustard
Hummus
Bacon Jam
Accents/Extras:
(Choose 2-3)
Green Olives
Kalamata Olives
Mixed Olives
Stuffed Olives (garlic, bleu cheese, jalapeno)
Pickles (dill, sweet, hot)
Fresh Rosemary
Chocolates
*Can be assembled on my board or tray (to be returned), your board or tray, or a purchased board or tray that will be included in the final price (If shape isn't specified, it will be chosen by me). Bowls and utensils may be borrowed, yours, or will also be an additional charge.*
**Not assembled in a commercial kitchen. May be exposed to potential allergens.
Photos on this page are ideas and are not all original to Changing Seasonings. Photo attributes given when known.