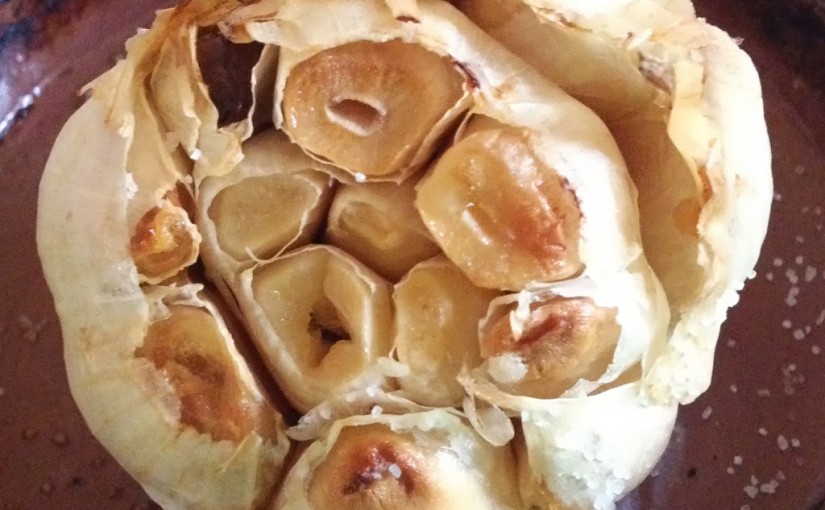 Garlic: Vampire deterent and super tasty!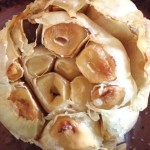 I can guarantee that there isn't a vampire anywhere that would venture within a thousand feet of our home…they could probably sense the tons (okay, not literally…but close) of garlic in my kitchen.  At this moment, if you peeked into my cupboards and fridge, you'd find garlic in nearly every form available: fresh, roasted, minced in a jar, whole peeled cloves in a jar, garlic salt (fine and course ground), garlic powder, pickled garlic, garlic paste and garlic infused olive oil (inserting plug for our local gourmet olive oil and vinegar shop, The Olive Twist, here…yummy stuff!).  If a recipe calls for garlic, you can bet I will add extra…and if the recipe doesn't call for garlic, it might just have some added anyway! Other than being wonderfully flavorful, garlic even has several claims of health benefits: helping to manage blood pressure and cholesterol, and antioxidant effects.  I'm not a doctor or even an herbal medicine expert, but if garlic does indeed provide those healthy benefits, we'll just consider it a bonus!  
A couple things about garlic to remember: if you have a fresh bulb of garlic and it is sprouting, it's past its prime…you can use it, but the flavor might be impacted, and if it's mushy or crumbles, its just not good anymore.  The finer you chop garlic, the more potent the flavor will be and raw garlic is more potent than cooked.  Cooked garlic becomes wonderfully sweet.  But, if you overcook garlic it will turn bitter…so toss it in to the dish a little later in the cooking process.  As a time saver, there is absolutely NOTHING wrong with having garlic in a jar in the fridge because having it handy might encourage you to use it more often. The minced is great to have…not many people have the desire to stand and finely mince multiple cloves of garlic.  Getting those teeny, tiny pieces can mean the loss of fingers if you aren't careful! 
My roasted garlic has been depleted, so I will be roasting some more tonight.  I love the way it makes the house smell!! Roasting garlic is simple and the finished product can be used for many things, one of my favorites is as a quick and easy appetizer for unexpected guests.  Just set it out with crackers or large croutons (I make my own from day old french bread).  My problem is not eating it all before it makes it to the refrigerator.  
To roast garlic, you can either use a handy, dandy garlic roaster or simply a piece of foil.  Preheat the oven to 425 degrees. 
Peel any loose layers of the paper-like skin of the garlic away, and cut the tips off of the cloves.
Set the whole bulb, cut side up in the roaster or on the foil.  Drizzle with a small amount of olive oil, and sprinkle with a generous pinch of salt (I use Kosher or Sea Salt).
Put the top on the roaster or close the foil around the garlic.  Place in the oven and cook for about 45 minutes.
The smell will be amazing!! The garlic will become soft and the edges will brown slightly.
Allow to cool.  Then pull the cloves apart and squeeze gently into a storage container.
Then, lick fingers (of course!) and eat half of the garlic before it gets put into the fridge! 🙂 oh wait, maybe that's just me!!