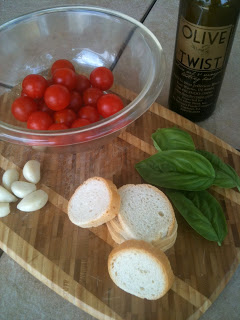 Grilled Bruschetta with Fire Roasted Tomatoes and Garlic
The other day, my son asked me what my favorite food is.  He was on a mission.  He was curious about what my favorite things are: color, car, animal, not because of a deep desire to better understand the things his mom is passionate about, but to try and hack into my computer account.  I caught on quickly, and informed him he was very much off base and commended him for his effort.  However, I was not able to answer the favorite food question.  Being a person who loves to cook and to eat, I have so many foods that I adore.  I can't pick just one thing (no, not even bacon!), though there are definitely tastes that I love such as lemon, garlic, strong herbs like rosemary and cilantro, and the spicy flavors of regional and ethnic foods like Cajun, Caribbean, Mexican and Indian.  Even though I can't name one food that is my absolute favorite, I do have several weaknesses…foods that I just can't say no to.  Two of my biggest weaknesses, bread and cheese.  This simple recipe includes both a crusty bread and soft cheese, as well as garlic and fresh herbs.  It is quick and easy, and is a versatile appetizer or just a tasty snack.
Bruschetta is an Italian antipasto made from toasted bread rubbed with garlic and drizzled with olive oil.  The bread can be topped with roasted peppers, tomatoes, cured meats like chorizo, salami or pepperoni and cheeses.  The popular Americanized version of Bruschetta is topped with tomatoes, garlic and basil with mozzarella cheese.
Like so many foods, this recipe is even better when prepared on the grill.  This Father's Day weekend, I'm blogging from one of my dad's favorite places: our family lake cottage.  Being at the lake offers a few challenges to food prep, mostly because I'm not in my own kitchen with my tools.  I even forgot to toss my favorite knife into the supply bag with the rest of my ingredients.  If you ever used a knife at our lake place, you would understand why that's a big deal.  Most of the knives are probably antiques and can barely cut through soft butter, but I found the sharpest one and made it work.  The other catastrophe this trip was that my favorite olive oil fell over in the back of the car during the trip and leaked out of the bottle.  My husband's reaction: "oh man, the truck carpet!"  My reaction: "oh man, my olive oil!"  Priorities, right!?!  Thankfully, I still had enough to cook with, but I will be making a trip to The Olive Twist this week to stock up!
Grilled Bruschetta with Fire Roasted Tomatoes and Garlic
1 package Cherry or Grape Tomatoes
1 8oz pkg Fresh Mozzarella Cheese
1 loaf Crusty Italian Bread cut in 1/2 in slices (our local grocery store sells bags of "day old" bread already sliced)
1 head of Garlic (leave one clove whole to rub bread* and slice the others)
Olive Oil
Fresh Parsley (optional)
6-8 leaves Fresh Basil
Coarse ground Sea Salt and Black Pepper
Mesh grill roasting pan
*I saved myself a step and used Garlic Infused Olive Oil, so I didn't rub the bread with the garlic.
Wash tomatoes and slice in half.  Peel garlic and slice thin.
Roll the Basil leaves to make them easier to slice.
Slice Basil thin.
Place the tomatoes, garlic slices, parsley and 1/2 of the basil in a bowl.  Drizzle with olive oil.  Salt and pepper.  Toss together.  Preheat grill and grill pan.
Rub bread with garlic clove.  Drizzle olive oil on both sides.

Reduce the grill to medium-low.  Pour the tomato mixture on the grill pan.  Gently toss as the bread toasts. Lay the bread directly on the grill rack to toast.  Check frequently to be sure not to burn the toasts.  Move the pieces around the grill and flip over as necessary.

When the tomatoes start to "burst" and the garlic is lightly browned, remove from the grill and put back into the bowl.  Be cautious not to overcook the garlic as it can become bitter.  Remove the toast when a deep golden brown on both sides.


Allow the tomato mixture to cool slightly before adding cheese.  Cut the fresh Mozzarella into small pieces (about half the size of the tomatoes).  Add the cheese, the remainder of the basil and another generous drizzle of olive oil to the bowl and gently toss.  Spoon onto the toasts.  Garnish the serving plate with whole basil leaves.
When you bite into these tasty treats, the tomatoes will pop in your mouth and the juices and olive oil will run down your hands, so have napkins nearby!