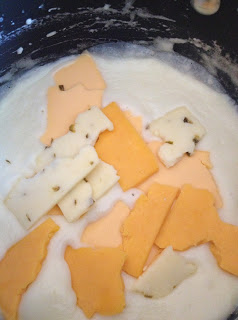 Leftover Cheese Tray = Tasty Cheese Sauce
Ahh the holidays! Food, food and more food! It never fails that more than one typically non-cooking friend or family member brings a cheese tray to the holiday gathering.  Now, don't get me wrong…I adore cheese! However, you will inevitably have cheese left over after your event and there is only so much cheese and crackers any of us can handle.  Other than using it for a toasty grilled ham and cheese, there is something very simple you can do with all that cheese.  A quick cheese sauce.  The cheese sauce can become a creamy fondue that can turn that leftover veggie tray into a fun and tasty meal.  It can also be used as a base for a turkey tetrazzini or homemade macaroni and cheese.
Cheese Sauce
(for about 4 cups of sauce)
4 T Flour
4 T Butter
3 C Milk
4-6 oz Cheese (variety of types)
Hot Sauce (several drops)
1/2 t Nutmeg (fresh, grated)
Start by making a roux.  The amount will depend on the amount of sauce you want to make.  A roux is basically made from equal parts of butter (or some fat) to flour.  Melt butter over medium high heat.  Add flour, whisking for several minutes until the mixture turns a light brown and a nutty scent develops.  Make a béchamel sauce by pouring in milk slowly, whisking constantly.  The mixture will thicken.  Continue to add milk to desired consistency.  Add the cheese.  When I am using leftover cheese tray slices, I just tear them as I put them in the pan.  Add several drops of hot sauce and grated nutmeg.
You now have a versatile cheese sauce that can be the base for so many recipes.  Add cooked pasta for a homemade macaroni and cheese.  To utilize other holiday leftovers such as meats or crudités, stir in pasta, leftover turkey, chicken or ham and peas, mushrooms or broccoli and bake for a tetrazzini casserole.  Or, put in a fondue pot and serve with  fresh vegetables, day old bread chunks, fresh fruits and pretzels.