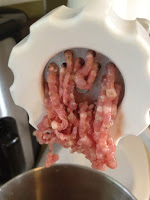 Grinding! No, Not the dance: Fresh Ground Sausage
Whenever possible I prefer to use the freshest of ingredients.  Since I live in the mid-west, I have limited access, mainly mid-summer through autumn, to fresh fruits and vegetables that haven't traveled long distances in who-knows-what kind of conditions to get to the local grocery store.  So, during Farmer's Market season, I use as much fresh produce as possible and freeze what I can.  I hope to master canning this fall.  I do bring my herb garden inside in the winter, so I can access fresh herbs year-round.
We do have access to quality fresh meat thanks to the local farmers and hunters.  In our community, we have several great, high quality meat shops.  For this fresh ground sausage, find a large cut of pork shoulder butt.  If you can get it boneless, it will save you a little time and hassle.  Sometimes called just pork shoulder or pork butt, the cut comes from the upper part of the shoulder.  This cut is beautifully marbled with fat and connective tissue which helps the meat to be moist and flavorful.  I was able to purchase a 7 pound roast to use, and made two recipes: Maple Breakfast Sausage Patties and Italian Sausage.
The next thing you need to have is a meat grinder.  My stand mixer has a meat grinding attachment.
The two recipes have several spices in common including garlic, salt, pepper, and nutmeg.  The other two spices typically found in sausage recipes are paprika and fennel seed.
Paprika is a mildly hot, sweet chili powder.  It is often named for the region the peppers are from.  They are dried and ground to a bright red powder.
Fennel seed comes from the fennel plant which resembles a fern.  The leaves, flowers, seeds, stems and roots of the plant are all used for a variety of purposes from ornamental, to medicinal to edible.  The dried seed has a flavor similar to the anise seed like black licorice.
To prepare the pork for the grinder, trim excess fat and cut into chunks.  Place in a large bowl.  Many recipes have you grind the meat and then blend in the spices.
However, I prefer to mix the spices into the chunks before they go through the grinder so that all of the flavors are evenly distributed throughout the meat.  Mixing some water into the meat and spice mixture helps to bind it all together.  Feed the mixture slowly into the grinder.
Be cautious, I discovered my meat grinder can throw raw meat about six feet across my kitchen! I found myself having to get the sausage out of my hair, off the wall and off of my clothing when I was finished.  Ha!
Maple Breakfast Sausage
3lbs Pork
2t Kosher Salt
1t fresh ground* Peppercorns
2t fresh ground Sage
2t fresh ground Thyme
1t fresh ground Parsley
1T Brown Sugar
1t fresh grated Nutmeg
1/2t Paprika
1/2t Fennel Seed
1/2C Maple Syrup
1/2C Water
Spicy Italian Sausage
3lbs Pork
4-5 cloves Garlic, minced
1t Kosher Salt
1t fresh ground Peppercorns
1T fresh ground Parsley
1/2T Italian Seasoning
1/2t crushed Red Pepper Flakes
1/2t Paprika
1/2C Water