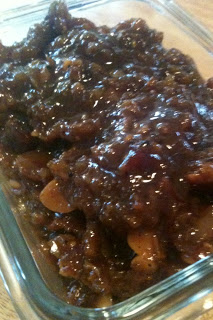 Spicy Apple Smoked Bacon Jam: The Ultimate Condiment!!
I have sampled some of the tastiest pepper jellies and onion jellies across the country, but I was about as excited as I'd ever been when I discovered a spread made with bacon…BACON!??! yes, bacon…the Cadillac of meat! The sole reason I can't become a vegetarian. I first saw the product on a web site dedicated to all products BACON.  Then, one day I was eating a gourmet grilled cheese sandwich at a local brew pub that had spinach and bacon on it.  The bacon pieces were difficult to eat on the sandwich and would pull out when I tried to take a bite.  That's when I thought, "that bacon spread would be perfect for this!" I searched and searched, and finally found several recipes.  My favorite came from the food blog, Not Quite Nigella. And, after some adaptations, I made a jar of one of the…well, yummiest is the best descriptor I have right now, condiments ever! Now, this recipe is not quick, but the end result is well worth the 2+ hours of cooking.  It's also not inexpensive…one pound of bacon is reduced to a jelly jar or two.  Having the house smell like bacon for nearly three hours was definitely a bonus though!
Since this is a blog dedicated to the use of herbs and spices in cooking, I suppose I should mention the several used to make this wonderful concoction: garlic, peppercorns, red pepper flakes, and brown sugar.  Be sure you are using the best type and quality ingredients for the tastiest end result.  I use fresh garlic cloves, and bunches of them, of course.  As I've mentioned in previous blogs, I prefer rainbow peppercorns and fresh coarse grind them to get the true essence of the pepper in the recipe.  Red pepper flakes should be RED.  If they are orange or brown, they are old and won't be as potent.  I purchase my red pepper flakes at our local farmer's market and they're so fresh, my eyes water when I open the zippy bag and put them in a jar.  I can add the fresh flakes to pepper flakes I have that may be a little old, and after a day, the older flakes will absorb the essential oils and be refreshed. Lastly, anytime I use brown sugar in a recipe, including marinara sauce, salsa and barbecue sauce, I use dark brown sugar.  The dark brown sugar gives a deeper more molassesy flavor (yes, another made-up food word!).
Spicy Apple Smoked Bacon Jam
1lb smoked bacon (you can use extra smoked or just add liquid smoke for a more smokey flavor)
1 sm Vidalia sweet onion sliced thin

1 sm red/purple onion sliced thin
6 cloves garlic rough chopped
3 T dark brown sugar
1/2 T crushed red pepper flakes
1 T coarse ground rainbow peppercorns
Tabasco to taste
Liquid Smoke to taste
1/4 C apple cider vinegar
1/4 C Maple syrup
1 C coffee
1C apple juice
Fry bacon until just starting to crisp and turning a pink/brown.  I recommend using a heavy cast iron skillet for the best results.  If it is not coated or non-stick, you will need to babysit the jam as it reduces to be sure it isn't sticking. You do not want to over-cook the bacon because it will continue to cook for the next couple hours.
Remove bacon to a paper towel lined plate.  Reserve the renderings for sauteing the onions and garlic. Clip the bacon into 1/2 inch pieces with kitchen shears.
Add the bacon back into the onion and garlic mixture.  Add the remaining ingredients, except for the apple juice…it will be added as the mixture reduces.
Simmer over low heat for about two hours, adding 1/4 C of apple juice every half hour.  Stir occasionally.
Reduced 1/2 hour
Reduced 1 hour
Reduced 2 hours
Allow the mixture to cool.  Pulse in a food processor until it is the desired consistency.  I like it a bit "chunky."  Store in a jelly jar in the refrigerator.
There are so many uses for bacon jam.  Of course, you can just eat it on bread or crackers (I just spread some right out of the pan on a piece of warm french bread fresh out of the oven!!).  It makes a great appetizer spread on homemade croutons with a little Gorgonzola cheese.  You can spread it with your favorite cheeses, baby spinach and thin sliced tomato to make an amazing grilled cheese sandwich.  And, my family's favorite, spread it on grilled burgers!! Mmmmmm!! The best part is that anytime you want that bacon and onion flavor on something, you just grab the jar out of the fridge…quick and easy, without the bacon frying!