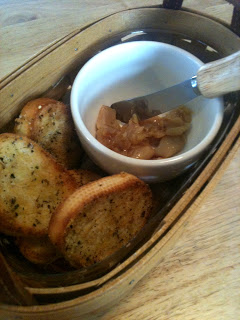 Company's Coming…Quick! Grab Some Croutons!
I love, love, love bread! So, there is always some kind of bread around that I can use for croutons.  And even though you can use any ol' sandwich bread or even leftover buns, my favorite croutons are from day old (or several days old!) crusty bread such as a French Baguette.  Slice the bread about 1/2 inch thick and cut to about 1 1/2 inch pieces.  The Baguette is already a perfect size, so I just slice it and am ready to season.
There are many different spice blends that work well for seasoning croutons.  Any of the store bought blends for dipping bread in olive oil are fine, but you can also mix your own.  By mixing your own, you control the amount of your favorite flavors you use.  I make a mix of Italian spices and Parmesan cheese, heavy on the garlic of course!
Parmesan Herb Seasoning Blend:
1 teaspoon dried parsley flakes
1/2 teaspoon dried minced onion
1/4 teaspoon dried oregano
1/4 teaspoon dried basil
1/4 teaspoon dried thyme
1/2 teaspoon coarse ground garlic
1/8 teaspoon coarse ground pepper
pinch of fresh ground nutmeg (I keep whole nutmeg in the freezer and just add it to the recipe with my micro-plane)
3 tablespoons grated Parmesan cheese (a mix of Parmesan Romano would be tasty too)
Toast the croutons at 425 degrees, turning once half way through baking, for 12-15 minutes.  Be sure the croutons cool completely before placing them in a storage container or bag so they stay crisp.
For a quick appetizer, set out the croutons with a bowl of roasted garlic as a spread.  You can also toss sliced ripe grape tomatoes, fresh basil, roasted garlic and olive oil, and top the tiny toasts with a piece of Mozzarella cheese and the tomato mixture for a yummy Bruschetta.  In the summer, I even toast the bread on the grill.  When grilling, the bread only takes a couple minutes each side to toast.
This recipe introduces the use of pre-mixed spice blends for achieving a particular flavor in a recipe.  Having spice blends on hand make it fast and simple to transform an unexciting, tasteless meal into something full of flavor!