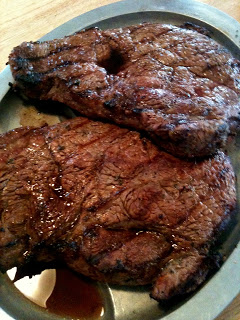 Grilled Ribeye with a Whiskey Marinade
One way to add flavor to meat is to use a marinade.  A marinade is made by combining an oil, an acid and spices.  Historically, people used marinades to both tenderize and flavor meat.  More recently, however, it has been discovered that marinades don't really have an effect on how tender the meat is.  The cut and quality of the meat and how it is cooked determines how tender it will be.  In fact, if certain meats are left in a marinade too long the tissue will break down and the meat will be grainy.  Even after soaking several hours, marinades only soak into the outer layers of the meat, not clear through, so it is important that you use a high quality piece of meat to really get the best flavor.  Remember that, for steaks, the more marbled with fat the piece is, the more natural flavors you will have.
Now, here's where the fun starts.  You can use any combination of your favorite oil, acid and spices to make your marinade.  I prefer a high quality olive oil, and am able to purchase them at a local gourmet olive oil and vinegar shop, The Olive Twist.  The acid can be a vinegar, wine, liquor or citrus juices.  Some of my favorites are balsamic vinegar, a Chardonnay or Cabernet Sauvignon, whiskey, tequila or lemon/lime juice.  Which I use, depends on the type of meat and the flavor I'm trying to achieve.  For example, for jerk chicken, I would use olive oil, lime juice, rum or tequila and Caribbean style spices such as all spice, cinnamon, cloves, garlic, nutmeg, habanero chiles, and thyme.  More often than not, my marinades are a combination of what I have on hand.
A warm day last weekend, contributed to a craving for steaks on the grill (which my former husband would eat six days a week, with Mexican food on the seventh day, if meal planning was up to him!).  So, a quick trip to the grocery store for beautifully marbled ribeye steaks cut an inch thick, and some potatoes and salad ingredients, and we were ready to cook! I chose a whiskey marinade because we had some tasty Jameson Irish Whiskey on hand.  I decided to keep it simple, but because of the strong flavor of whiskey, chose to use garlic and pepper to compliment it.
Whiskey Marinade:
(amount of each ingredient would vary depending on the quantity of meat, this was for two 16oz steaks)
1/2 C your favorite Whiskey
1/4 C Olive Oil
1 T minced fresh garlic
1 T course ground black or rainbow peppercorns
1 T dried parsley
Mix all of the ingredients in a large zip close bag.  Add the steaks turn and massage so that the marinade covers the meat.  Refrigerate for 2-4 hours, turning bag occasionally.
To get a flavorful char on the meat, make a dry rub using the same spices you used in the marinade and apply to the steak before grilling.  Grill to your preference.  For me, that means a quick 5-6 minutes per side on a medium-high grill for a medium rare steak.  Sooo tasty!!