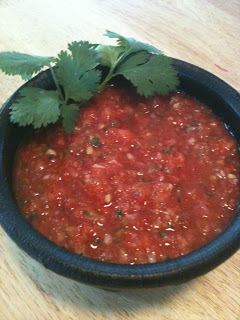 Some like it HOT! Mmmm…Salsa fresca!!
Just in time for Cinco de Mayo, comes another of my favorite herbs: Cilantro! And, how better than to incorporate this fresh and flavorful herb in a recipe than Salsa!?!
The one thing I have found is that people either love cilantro or they really don't like it…there aren't too many in between.  It has a very distinct flavor that leaves no question about whether it can be found in the recipe.  Even if you love it, be cautious because you can use too much of it.  Cilantro is the leaf of the plant and coriander is the seed.  Even though they come from the same plant, their tastes are very different and they can not be used to replace each other in recipes.  Cilantro is wonderful fresh, but can also be found in dried spice form.  The best way to store fresh cilantro is to make a new snip on the stems and place the bunch in a cup of water like you would a flower bouquet.  Depending upon how quickly you will use it, you can store it on a counter or in the refrigerator.  Wash and gently pat dry just before using.  The leaves and stem can be used. Cilantro is often found in  Mexican and Latin American recipes, but is also found in Middle Eastern, Mediterranean, Indian, South Asian, Chinese, African and Southeast Asian cuisine.
Technically, my salsa is a pico de gallo.  What's the difference, you ask?? The difference between salsa and pico de gallo is whether it is cooked or fresh.  Salsa is made with cooked ingredients and pico is made by chopping and mixing fresh ingredients.  However, the term "salsa" is pretty much used to describe any sauce, red or green, sweet or spicy, chunky or smooth, that is made from the basic base of tomatoes, onions, garlic, peppers and vinegar.  The best part about this sauce is you can make it any way you like it.  There are so many variations and things that can be added: corn, black beans, fruits (mango, pineapple and raspberries are some of my favorite!), and peppers (jalapeno, habanero, and chipotle [roasted peppers]). The other aspect you control is the amount of heat.  Depending upon which peppers you use, how many of those peppers and whether you leave the seeds and veins intact.  TIP: to easily remove the seeds and veins from the peppers, use a grapefruit spoon.
I suppose I really shouldn't refer to this as a recipe for salsa, but really more as a framework.  There are so many variables that influence the exact amount of each ingredient, that really the best thing you can do is add some of each thing, sample and adjust according to your taste.  You never know how ripe and flavorful the tomatoes will be so you may need to add tomato paste to spark up the flavor a bit.  I always dig to the bottom of the bin at the grocer's and chose tomatoes that are almost over-ripe.  Roma tomatoes are my favorite for cooking because they are more "meaty."  Peppers can vary in heat, so always start with a little then add more if needed…you can't take the heat back out easily.  Also, the longer the salsa sits, the hotter it will become.  Salt and sugar work together, so add a bit of both at the same time.  And, again, cilantro has a very strong flavor so add sparingly.  For the acid, I typically just use white vinegar, but sometimes add a little fresh lemon or lime juice for a different flavor.
Salsa Fresca
8-10 really ripe Roma tomatoes
2-3 jalapeños depending upon size and heat
1/2-1 habenaro (optional…if you like it HOT)
1 large Texas sweet or Vidalia sweet onion
4-5 cloves of garlic (about 4t minced if you use jarred instead of fresh…either works)
a handful cilantro (more or less depending on how much you like that flavor)
1 small can tomato paste (use 1/2-whole can depending on ripeness of tomatoes and for thickening)
1/4 C white vinegar
1/4-1/2 C sugar
1-2 T kosher or sea salt
You can prepare this salsa by hand chopping all the ingredients, and if you like yours more chunky, that is probably what you would want to do.  It can also be made using a food processor or even a blender.  I prefer mine to be less chunky and thick, so I use my food processor.  I have an awesome processor that does large pieces of food in large amounts, so I only have to peel and rough chop the ingredients and toss them in.  I can also make a decent sized batch in one processor bowl.  However, because of the massive amounts of salsa that are eaten by my family, friends and co-workers, I make multiple bowls and mix them together in one very large bowl before pouring into various containers for distributing and storing.  This salsa lasts for quite awhile in the refrigerator.  I would like to be able to tell you exactly how long, but it rarely lasts more than a week in my house before being devoured!