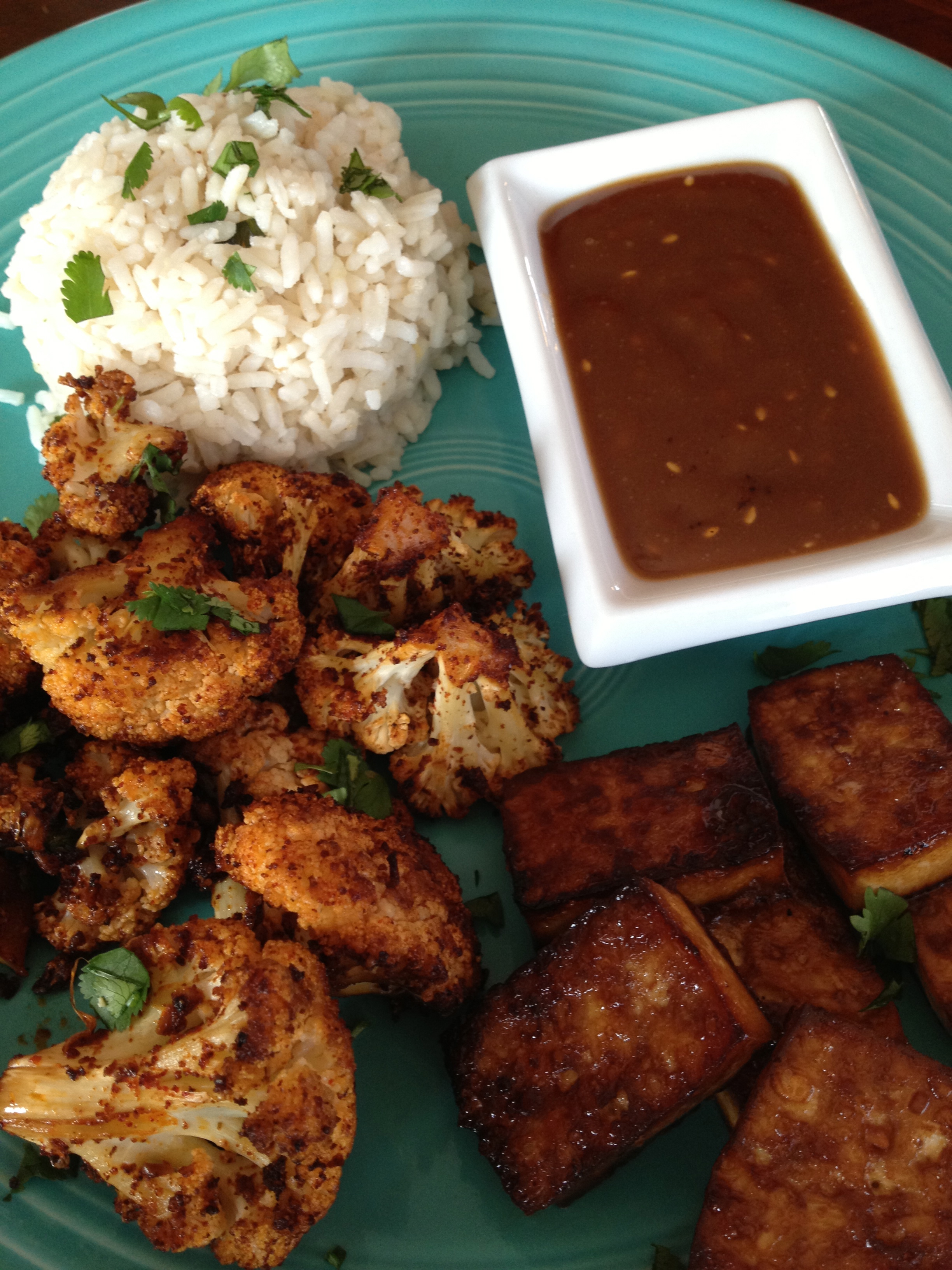 Better than Take-out Thai
I live in a rural part of northeast Indiana.  The nearest Thai restaurant is about 45 minutes away, so when I had a Thai craving it went unsatisfied…until recently.  After much searching and adapting, I have put together a Thai inspired feast that is spicy and simple.
I tied together the flavors of the dishes with the crushed red chili pepper and lime.  The meal includes Chili Lime Roasted Cauliflower, Chili Lime Grilled Chicken Satay Skewers and Roasted Tofu with a Thai Peanut dipping sauce on Coconut Milk Rice, and Pad Thai noodles.  I love the spiciness of Thai, and all of these recipes are plenty spicy.  I do not recommend adjusting the heat at all until you've sampled first.
First, the base of the Pad Thai, Peanut Sauce and the marinade for the Chicken and Tofu is a spicy sesame oil made by combining 1 C of Sesame Oil and 2 T crushed red chili peppers in a small saucepan and heat over medium heat for 2-3 minutes.  Pour through a strainer to remove pepper flakes. Reserve oil for use in the following recipes.  And, in case you skipped the last line of the previous paragraph, do not add extra pepper…this will be plenty hot!
Thai Peanut Sauce
1T Peanut Butter
2T Spicy Sesame Oil
2T Soy Sauce
1T Brown Sugar
1t Siracha Sauce
1t Sesame Seeds (I like mine toasted)
Whisk together.  Set aside as dipping sauce for chicken, tofu and cauliflower.
Chili Lime Roasted Cauliflower
1 Head of Cauliflower
3 Cloves of Garlic, minced
1T Red Chili Powder
1/2t Crushed Red Pepper Flakes
1t Cumin
4T Olive Oil
1/4C Cilantro, chopped
Juice of 1/2 Lime
Kosher or Sea Salt
Preheat oven to 325 degrees.  Clean the cauliflower and cut apart florets.  Mix together the remaining ingredients, reserving half of the cilantro for garnish.  Toss with cauliflower in a large bowl.  Place on a baking sheet.  Roast 1- 1 1/2 hours, turning occasionally.  Garnish with a squeeze of lime juice and the remaining cilantro.
Chili Lime Roasted Tofu
1 Tofu block, cut in 1/2 inch cubes
Juice of 1 Lime
1 Clove of Garlic, minced
1t Red Pepper Flakes
3T Spicy Sesame Oil
Mix the ingredients.  Place the tofu in a dish and cover with marinade.  Refrigerate for 30 minutes.  Preheat oven to 400 degrees.  Place tofu on a baking sheet and roast for 20 minutes.  Turn halfway through cooking time.
Coconut Milk Rice
Basmati Rice
Chicken or Vegetable Broth
Coconut Milk
1t Fresh grated Ginger
1/2t Fresh ground Clove
1T Cilantro, chopped
Prepare rice as directed on package, but substitute equal amounts of broth and coconut milk for the water.  Add ginger and clove.  Once fluffy, toss in the chopped cilantro.
Chili Lime Chicken Satay Skewers
1lb boneless skinless chicken thighs (you can use breasts if you prefer)
Bamboo Skewers (soak in water for 20 minutes so they won't burn on the grill)
Mix the ingredients, reserving 1T of cilantro for garnish.  Cut the chicken into pieces to skewer.  Place the chicken in the marinade and refrigerate for an hour.  Skewer the chicken pieces.  Grill for 6-8 minutes per side.  Garnish with lime juice, lime slices and chopped cilantro.
Pad Thai
1/2C Spicy Sesame Oil
4T Brown Sugar
6T Soy Sauce
Splash of Siracha
Juice of 1 Lime
1 box Linguine, Angel Hair pasta or Rice Noodles
2T Olive Oil
1/2C Green Onion, chopped (separate greens from the whites)
1/2C  Carrots, grated
1/2C Cilantro, chopped
2 Cloves Garlic, minced
1 Egg (optional)
1/2C Peanuts, roughly chopped
Mix together the first five ingredients.  Set aside.  Prepare noodles as directed on package.  Heat olive oil over medium-high heat.  Sauté the white part of the onion, carrots and garlic.  Scramble in egg if desired.  Reduce heat.  Toss in noodles and add sauce.  Garnish with chopped peanuts, green onions and cilantro.
This is a lot of food! I actually made the Pad Thai and Chicken Satay skewers with Peanut Sauce for one meal, and then had the cauliflower, tofu and rice for another meal…my meatless meal for the week. Once you have the Sesame Oil and Siracha in your pantry, these actually end up being very economical too.  Considerably less than ordering take-out, if you live closer than I do to a Thai restaurant!