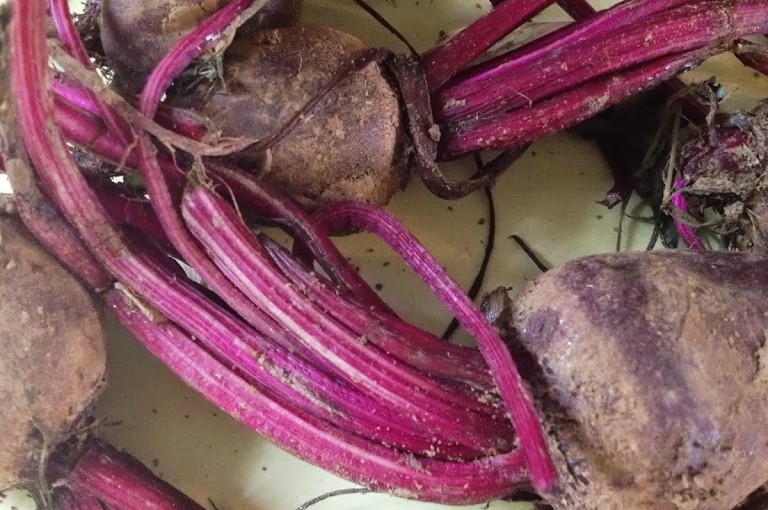 Not Your Mother's Canned Beets! Roasted Beets with Thyme and Raspberry Balsamic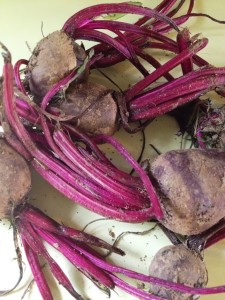 I used to think that beets came either in a can or pickled in a jar.  My mother ate canned beets two ways: cold on a salad or warmed up (and slightly mushy) with a splash of vinegar.  Come to think of it, at the time, I ranked cooked beets in the same category as cooked spinach because of those mushy, vinegary attributes. I typically just turned my nose up. I thought the pickled beets were just used for color and I moved them out of the way so I could get to the tasty pickled eggs hiding in the jar.  I didn't know what I was missing.  Hurray for growing up and discovering those foods can be very tasty when prepared properly!
Beets are a root vegetable that are high in potassium.  The leaves, which taste similar to spinach (funny that I had just mentioned spinach!) are a good source of vitamin A, iron and calcium.  Buy beets that are smaller and have their root and at least two inches of stalk still attached.  When cut too short, they will "bleed."  They keep for several weeks in a cool place.
I grew to appreciate the colorful root vegetable, but didn't truly fall in love with beets until I roasted them.  I stand by my conviction that all vegetables taste amazing when roasted, especially over an open flame.  Cooking them slow and allowing all of the natural sugars to caramelize enhances the flavors.  Some of my favorites are beets, broccoli, cauliflower, asparagus and brussel sprouts.
This recipe uses fresh thyme, though you could use dried thyme if you don't have fresh handy.  Just remember to use less when you use dried spices because the flavor can be more intense.  Thyme has a robust, slightly lemony flavor and a woodsy, warm aroma.  It can dominate other flavors, so it goes well with garlic, onions, red wine, meats and tomato based dishes. Just pinch the stem and pull down to remove the leaves.  The leaves are small enough to just sprinkle into the dish or you can put a rough chop on them which can help release the flavor.
Roasted Beets with Thyme (adapted from Barefoot Contessa)
8-10 Medium Beets, peeled and cut in 1 inch dice
1 1 /2 t Fresh Thyme
2 t Salt, sea salt or kosher salt
1- 1 1/2 t coarse ground Rainbow Peppercorns
3 T Olive Oil (I used the peppery Arbosana from The Olive Twist)
Preheat oven to 400 degrees or the grill to medium or medium-high (if your grill has a thermometer, heat to 300-400 degrees).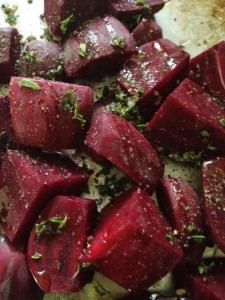 Place the beets on a baking sheet.  Drizzle with the olive oil and sprinkle on the spices.  Toss together to coat the beets.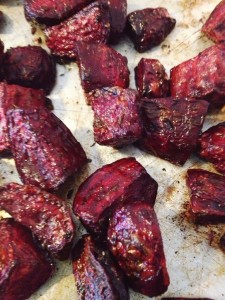 Roast in the oven 35-40 minutes or transfer to a grill pan/basket and grill for 20-30 minutes.  Turn occasionally.  Cook until tender.

Raspberry Balsamic Reduction
3 T Raspberry Balsamic (I also get my balsamic from The Olive Twist)
1 T juice (the original recipe called for orange juice, I used some peach mango because it was in the fridge)
Whisk together the vinegar and the juice.  Add a pinch of salt.  Bring to a boil and cook for 2-3 minutes.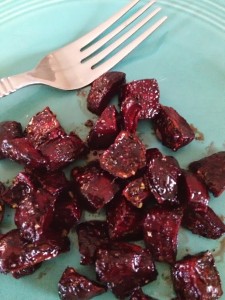 Remove the beets from the oven or grill and toss immediately with the reduction.  Sprinkle with a little more salt and pepper to taste.
These beets make a perfect side dish for grilled flank steak, though I just eat them by themselves for a tasty lunch!  They would also be perfect as leftovers on a salad.  Top mixed greens with thin slices of the flank steak, beets and crumbled bleu cheese.  Make a vinaigrette with the Raspberry Balsamic, juice and a drizzle of olive oil.  Serve with big, crunchy croutons.  Click here for my crouton recipe.
Let me know what you think about beets after trying them roasted!  Enjoy!!