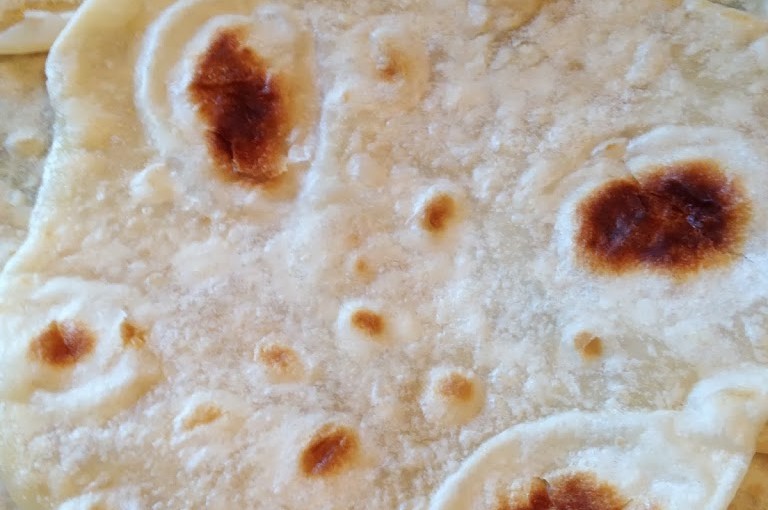 Super Simple Tortillas made with Coconut Oil
I am one of those people who has a slight addiction to Pinterest.  It's not a "hi, my name is Carrie and it's been five minutes since my last Pin" kind of addiction, but I can get caught up designing my dream kitchen and reading the work-outs that take less time to actually do then it takes to read and Pin. Of course, I love reading recipes.  Lately, I have been really interested in the recipes for ingredients that I would typically buy when making a dish such as cheese, breads, and this one for homemade flour tortillas.
I used to have a favorite Mexican restaurant that made their flour tortillas fresh on a griddle just outside the kitchen so you could watch them being prepared.  They were brought to the table warm and soft…so yummy! But, I honestly had never thought to make my own until seeing all of the Pinterest posts.  How simple it is! Only four ingredients, if you count the water, and less than 30 minutes.  This is a fun recipe to cook with the kids too.  They can help knead and roll the dough.
My adaptation to the recipe is that I used Coconut Oil and a little butter instead of shortening (so technically, five ingredients). There has been a lot of information available about the health benefits of Coconut Oil. I'm not a doctor, so check out the research for yourself.  Click here for a great resource about Coconut Oil.  I have been using it in place of my facial moisturizer, body lotion, to rinse my mouth and on the ends of my hair with great results.  I have also been using Coconut Oil and Coconut Milk in the kitchen. Coconut Oil is a saturated fat, which contrary to the push for chemically altered poly unsaturated fats, our bodies need for things like brain cell health and fuel.
Flour Tortillas
2 3/4 C All-purpose flour
3 T Coconut Oil & 2 T Cold Butter (or 5 T Shortening)
3/4 t salt (I used Kosher salt)
3/4 C very warm Water
Put the flour, salt and oil/butter in a processor and pulse until combined.  Slowly add the water to the mixture on a low setting until the dough forms a ball in the processor.
Put on a lightly floured surface and knead for 2 minutes.
Divide the dough into 10-14 pieces depending upon the size of the tortillas you desire.  Roll the pieces into balls and let sit while you preheat the skillet.  Heat a non-stick skillet over medium heat.
Roll each ball very thin.  Place one or two at a time in the skillet.  When the dough begins to bubble, flip the tortilla over. It only takes about a minute for each side.  Don't over-cook or they will get tough.
Remove from the pan to a serving dish.  Use for tacos, burritos, quesadillas or enchiladas.  You can also make fresh chips by brushing lightly with olive oil, cutting into triangles with a pizza cutter, putting the pieces on a baking sheet, sprinkling with salt and baking at 350 degrees for about 5-8 minutes until the edges are a golden brown.
If you don't use the tortillas right away, allow them to cool and store in the refrigerator in a resealable bag.
Once you have warm, soft fresh tortillas, you won't mind the few extra minutes of prep time.  What else can flour tortillas be used for??  Here is one idea: a scrumptious Roasted Garlic and Gorgonzola Quesadilla.